Main trend: down
ST trend: neutral
Yesterday the session was choppy both ways in a sign that the trend is still down, but MMs are trying to shake out put holders as much as possible. The o/n session saw 2 tests of Friday's lows and 1 test of Friday's high. We gapped down, but bulls quickly stepped in and made another push to a minor new high, before completely getting rug pulled and seeing a drop below Friday's lows. However bulls did manage to defend that area and staged a late day bounce that almost got entirely retraced near the RTH the close.
The o/n was more bullish as price rose without taking out yesterday's lows and bulls managed to test yesterday's HOD, winning back ML in the process. That initial push was sold into a ML back-test which bulls are now trying to hold. Therefore the ST trend is neutral, as there is currently a heavy battle for ML. If bulls manage to hold here, then a push into a macro-ML test above would be the likely next step and inflection area. If ML is lost, then yesterday's lows might get tested once more and this time it's unlikely they will hold.
EWT wise, it would seem the action in the last days is a 4th wave, as it would fit best the back and forth character. In terms of the big picture, it is unlikely we will find a longer term bottom until VIX pushes above 35. All prior large declines saw VIX peaking between 35-39, while the big drop from 2020 saw that near 45. Given that this time around it only touched 32, it looks like there is still a bit more to go before we could get at least a multi-day bounce.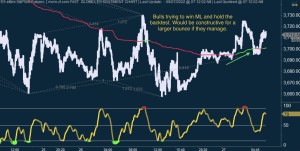 https://mcm-ct.com/wp-content/uploads/2015/05/mcmLogoFinalBlueHorizontal.png
0
0
mcm-Alex
https://mcm-ct.com/wp-content/uploads/2015/05/mcmLogoFinalBlueHorizontal.png
mcm-Alex
2022-09-27 07:14:35
2022-09-27 07:14:37
mcm daily market update 27.Sep.22