Main trend: down
ST trend: down
On Friday we noted that both MT and ST were down as all 3 MLs were above price and red, after bulls lost them all following the CPI number release. We also issues a CRASH warning set up in our EWT analysis, as the market looked bear nested off the 3960 area. Given that Friday was OPEX, MMs managed to stop the bleeding at 3840ish, following a 35 points gap down, and even managed to stage a face-ripping rally in the last 2h to save themselves from paying too many put positions.
As noted in the chat room on Friday, the rally looked "phony". The LOD on Friday was looking like a b-wave, meaning that it should be taken out, before too much upside. The market delivered and we took out Friday's low in the o/n session already. Not only that but Friday's rally stopped dead right at ML, for another ugly rejection. So for now the trend is down.
In EWT terms, the CRASH warning is still valid, however it looks at least possible that the impulse off 3960 area finishes with the new low (once RTH opens). That will be the next decision point. If bulls manage to stop the decline and bounce convincingly, then they have a few options that postpones the CRASH for at least a few sessions. They might push this back to 3960 or even 4000 before that is done. However if bulls can't stop the bleeding soon, the CRASH might happen rather directly. Considering FOMC decision on Wed, that looks rather unlikely though.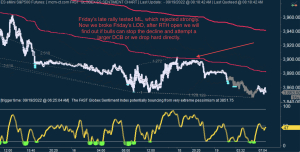 https://mcm-ct.com/wp-content/uploads/2015/05/mcmLogoFinalBlueHorizontal.png
0
0
mcm-Alex
https://mcm-ct.com/wp-content/uploads/2015/05/mcmLogoFinalBlueHorizontal.png
mcm-Alex
2022-09-19 08:26:30
2022-09-19 08:26:33
mcm daily market update 19.Sep.22