MT trend: down
ST trend: down
After the CPI print and rug pull on Tuesday, the bulls were unable to find their footing. Being an OPEX week, MMs did a great job of stalling both sides after Tuesday LOD and kept things confined in a 60 point range between 3900 and 3960 SPX. However bounces were quickly hammered down to lower lows and finally the low of the range gave in yesterday.
While the RTH close stick saved 3900 SPX lvl, the o/n decisively broke it and traded as low as 3860 SPX equivalent. Bulls were simply unable to get off the mat. FGSI is showing a confirmed low at LOD, which is bad and also shows bulls are very inefficient at moving price. IGSI also looks terrible for bulls as it's close to centerline, but price is at the lows. Price was capped all session by the 400bar MA which is the lvl to win back (on a sustained basis) for bulls to have a shot at reversing this trend.
The bigger issue though comes from EWT. In fact, given the wave structure, we are on a CRASH WARNING set up. It looks like we have started a higher degree wave 3 at 4120 and the minor degree wave 2 of this wave completed with a tiny retrace (couldn't even hit 23,6%). Additionally the even lower degree wave structure shows the potential for a bearish nest started at 3960. What that means in plain English is that the market could run towards the target for the higher degree 3rd rather directly. Meaning 3500 in the next few session (!). Today sub 3800 is entirely possible in that case.
Bulls have 1 chance to turn this. They need an RTH open close to 3870 which immediately runs to close the gap down and then overlaps 3930. IF the can achieve that (big IF), then there have some options which could see yet another bounce into 3970 area or even higher into 4000-4030.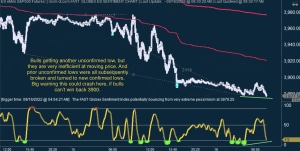 https://mcm-ct.com/wp-content/uploads/2015/05/mcmLogoFinalBlueHorizontal.png
0
0
mcm-Alex
https://mcm-ct.com/wp-content/uploads/2015/05/mcmLogoFinalBlueHorizontal.png
mcm-Alex
2022-09-16 08:38:15
2022-09-16 08:38:18
mcm daily market update 16.Sep.22