Main trend: down
ST trend: down
Friday the market finally revealed its intentions after the back and forth on Wed-Thu. The NFP numbers coming out at 8:30am were the final nail in the bull coffin as the market dropped 50points instantly. The forces at work managed to hold the line there until RTH open, but the cash session was simply horrible for bulls. It gapped down about 40 points, but sold off the entire day with only tiny bounces and dropped nearly 90 points more until the day's LOD.
Sunday saw lower lows being made, bears taking out quickly Friday's lows, before bulls managed to bounce back to 3650 area on ES. LOD and 3650 defined the ranges of the o/n action with 3 round trips from the lower range to the higher one. FGSI is sowhing that both sides are rather inefficient, so looks like chop until RTH opens.
In terms of big picture, no change vs what I indicated last week. I believe Wed's high marked the end of a higher degree 4th wave (of the impulse started at 4320), and we are now in wave 5 of that move targeting 3000-3300 area. Until we break the late September lows, we will have no confirmation that the move off 4320 is indeed an impulse, but I believe that can be achieved today. That area should provide at least a DCB though, to trick some bulls into thinking that a double bottom is holding and shake off some late bears. It would be strange for such a strong support area to be broken directly without a fight. So after we break that low, be on the look out for a fake breakdown and quick recovery. If they go that route, the bounce target would be the breakdown area near Friday's RTH gap open (3708 SPX).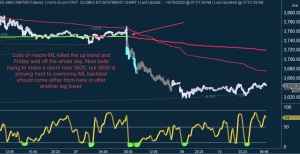 https://mcm-ct.com/wp-content/uploads/2015/05/mcmLogoFinalBlueHorizontal.png
0
0
mcm-Alex
https://mcm-ct.com/wp-content/uploads/2015/05/mcmLogoFinalBlueHorizontal.png
mcm-Alex
2022-10-10 07:56:07
2022-10-10 07:56:09
mcm daily market update 10.Oct.22