Main trend: up
ST trend: neutral
Markets finished last week undecided putting in an indecision doji, ending the week near the lvl where they started, with long tails both up and down. Friday was OPEX and the whipsaws didn't dissappoint, large gap up, that got sold hard, then LOD hit near mid day and push higher into the close to end at the infamous 3960 lvl.
The o/n was pretty indecisive, however price dripped lows and broke below ML and macro-ML. Bulls are not beat yet, as Friday's low wasn't broken, but the loss of ML and macro-ML is a warning. Those are the key levels going fwd. If bulls cannot win back ML and macro-ML, then that would mean bears are taking control and we have likely started a larger degree decline. If they do manage to breakout, then they have a shot at pushing this back higher.
In the big picture, things are at a cross roads here. There is at least a chance that last week's high marked the end of the entire move off 3500, which would mean a large retrace is due. Bulls still have some outs as the decline off that high is only 3 waves so far and we overlapped the low of the 1st wave. So if bulls can push here, they can "lock in" another 3 wave decline (which is corrective) and can extend this above the recent highs, potentially into the next resistance area near 4100. The problem is, if they cannot do that and the lows are broken, the most obvious bearish pattern would be a bear nest, which would mean an acceleration to the downside. From an EWT perspective Friday's high is important and then the 4000 lvl on the upside while 3922 SPX and then 3900 are key on the downside.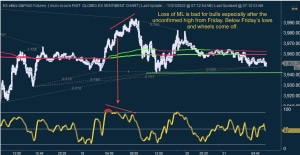 https://mcm-ct.com/wp-content/uploads/2015/05/mcmLogoFinalBlueHorizontal.png
0
0
mcm-Alex
https://mcm-ct.com/wp-content/uploads/2015/05/mcmLogoFinalBlueHorizontal.png
mcm-Alex
2022-11-21 07:19:46
2022-11-21 07:19:48
mcm daily market update 21.Nov.22