ST trend: down (with potential bottoming attempt)
Yesterday we were noting that the ST trend was up as sellers were inefficient via FGSI, buyers had won back ML and FGSI was refusing to move to extreme optimism. We mentioned " there is a lot of room on FGSI to push prices higher before it reaches extreme optimism and signals a ST pullback". The market obliged once more and price pushed all the way to 4420 before FGSI finally reached extreme optimism. Buyers lost control there and we had a very strong pullback which sliced through ML in a big warning that buyers are in trouble.
The o/n looks quite bearish so far. Price whipsawed ML for a while, but buyers again lost the battle and once it started coming lower, the action was as bearish as it can get. Each bounce was capped by danny and despite FGSI hitting extreme pessimism and even attempting to put in unconfirmed lows, the market kept making lower lows. Now we have a confirmed local low on FGSI after breaking several unconfirmed lows, so it would seem more work is needed before finding a meaningful bottom. Danny is the big line in the sand for the immediate term trend. As long as it continues to act as resistance, price can continue to make lower lows.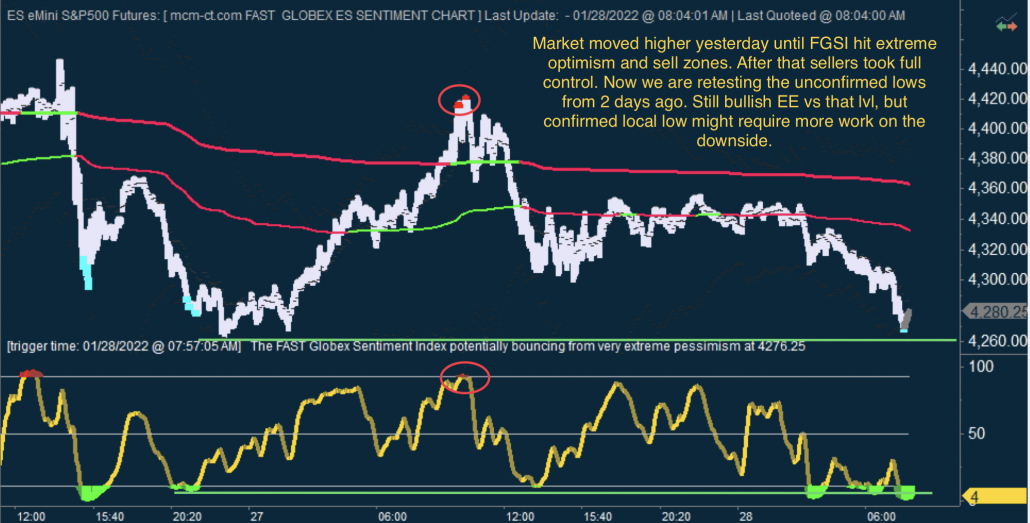 https://mcm-ct.com/wp-content/uploads/2015/05/mcmLogoFinalBlueHorizontal.png
0
0
mcm-Alex
https://mcm-ct.com/wp-content/uploads/2015/05/mcmLogoFinalBlueHorizontal.png
mcm-Alex
2022-01-28 08:09:31
2022-01-28 08:09:33
mcm daily market update 28.Jan.22