ST trend: down (with potential bottoming attempt)
On Friday we were noting that the ST trend was neutral, as buyers were in the middle of a bounce from bullish EE on FGSI. They failed at the retest of the prior high and then kept painting bearish EE on each bounce, and they all held and pushed price lower. Those were clear indications that sellers are stepping back up. The cash open spike did the same, with a bearish EE forming which held. After that there was no looking back. Sellers sliced through ML and they were in control throughout the session. On Sunday we had continuation to the downside, as a feeble attempt at a bounce saw bearish EE forming and then lower lows.
The o/n session of today continued to show weakness. Bounces were small but leading to large FGSI moves. Danny kept rejecting price. With that being said, we do have a double unconfirmed low on FGSI and IGSI. And we do have MGSI in the green zone. These make the POTENTIAL for a bigger bottom. Potential is the key word. Buyers need to prove themselves by breaking above key lines (momo, danny, 400bar MA and eventually ML) and also break bearish EE levels on FGSI/IGSI. 3 additional things to mention:
This is the same set-up on FGSI/IGSI/MGSI which we had at prior 2 OPEX dates. While "this time could be different", it's worth keeping in mind what happened last time.
We are overshooting the 50DMA on daily and the lower BB. At least a snap-back bounce is probable. Reaction to that, especially if price retest ML, will be key for the trend.
FOMC starts its 2 day meeting tomorrow, with the announcement coming on Wed evening.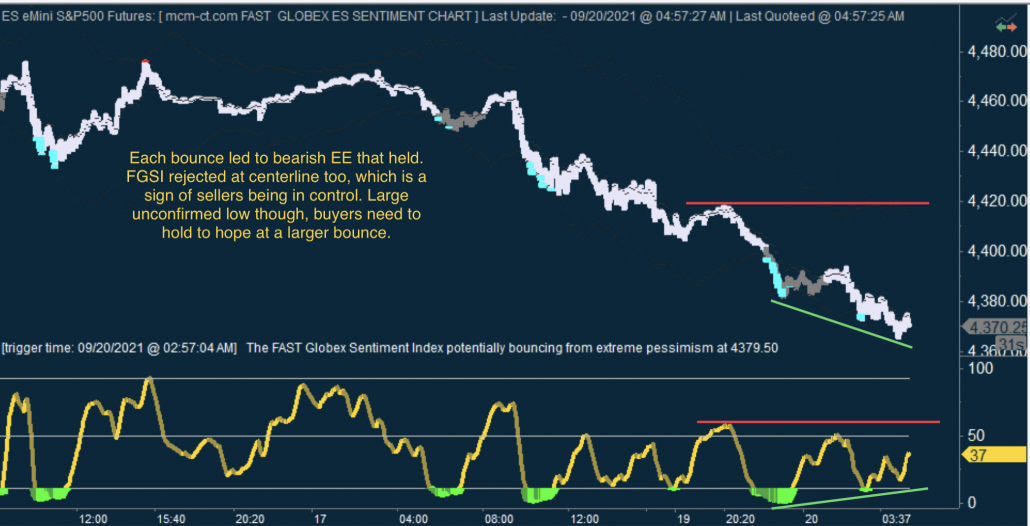 https://mcm-ct.com/wp-content/uploads/2015/05/mcmLogoFinalBlueHorizontal.png
0
0
mcm-Alex
https://mcm-ct.com/wp-content/uploads/2015/05/mcmLogoFinalBlueHorizontal.png
mcm-Alex
2021-09-20 05:42:19
2021-09-20 05:42:21
mcm daily market update 20.Sep.21