ST Trend: neutral (potential ST bounce underway)
On Friday we were noting that the ST trend was down, with potential bottoming attempt, as price kept making lower lows after losing ML and despite hitting extreme pessimism on FGSI several times. We did mention that once danny gave way the bottoming attempt would be confirmed and indeed once danny failed to cap price, buyers pushed it all the way into a ML back-test. Initially ML held, but buyers managed to make a higher low on the pullback from there and then broken above ML convincingly. We did get another ML back-test (from above this time), right before the "famous" late Friday ramp.
The o/n action since Friday's RTH close was as text-book as possible. Pullback after hours on Friday, then another push to minor new highs on Sunday, highs which remained unconfirmed on FGSI. Then pullback from there and another test of the highs on Monday before finally giving up and having a pullback into a ML test. ML is the key line in the sand, as usual. Buyers want to hold ML and bounce this back to the highs area to have hopes at another push higher. FGSI hit extreme pessimism on this ML test, so they have a decent chance at that. On the other hand, sellers need to break below ML. Capping price either at danny (ideally for sellers) or at least 400bar MA is what sellers want to see. FGSI is already showing buyers are inefficient on this bounce off ML, which is not what they wanna see. If ML is lost, buyers would need to make a stand at macro ML or at the 1st bullish EE lvl (the low where the Friday late ramp started).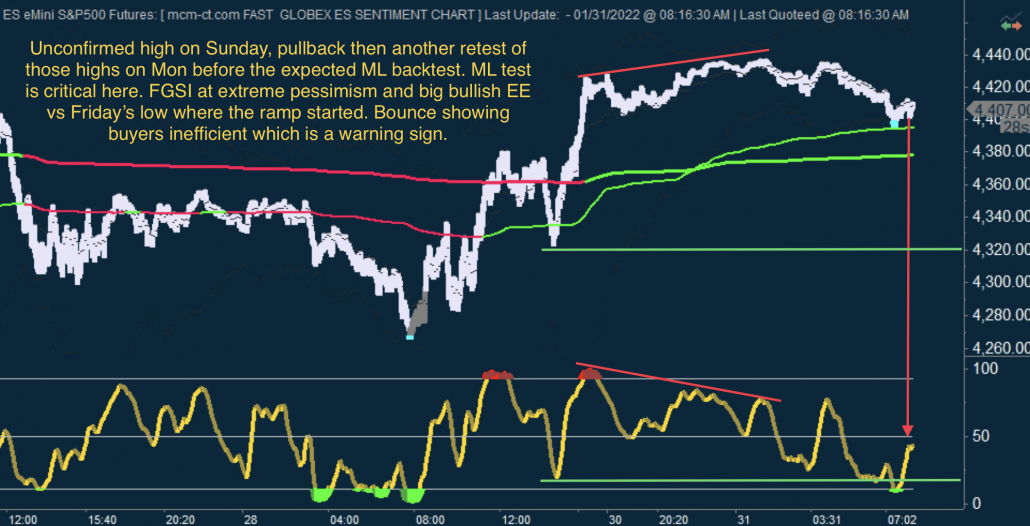 https://mcm-ct.com/wp-content/uploads/2015/05/mcmLogoFinalBlueHorizontal.png
0
0
mcm-Alex
https://mcm-ct.com/wp-content/uploads/2015/05/mcmLogoFinalBlueHorizontal.png
mcm-Alex
2022-01-31 08:25:07
2022-01-31 08:25:09
mcm daily market update 31.Jan.22