ST trend: up (attempted bottom)
Yesterday we noted that the trend was up, with whipsaw risks, as FGSI showed that also buyers were inefficient. The whipsaw risk turned into full on bear, once buyers continued to be inefficient on all bounces and the Maginot Line (ML) was lost. Just a reminder: the ST trend can change quickly if FGSI and the TT signals (ML is THE line in the sand for up/down trend) change character.
The o/n showed that buyers were up against the ropes several times, as the selling pressure continued and made the first bounce off yesterday's lows fail. However buyers made a big comeback and now we have a serious bottoming attempt. The last low was unconfirmed on FGSI and bulls bounced hard off of it AND broke the 1st bearish EE level. That is a big warning for sellers as it is exactly what should happen when the trend changes. However, buyers still need to win back the ML.
With both FGSI and IGSI showing unconfirmed lows at the o/n lows, the buyers have a great chance at turning this back up. But ML needs to give way, as long as price is below, the buyers are not out of the woods.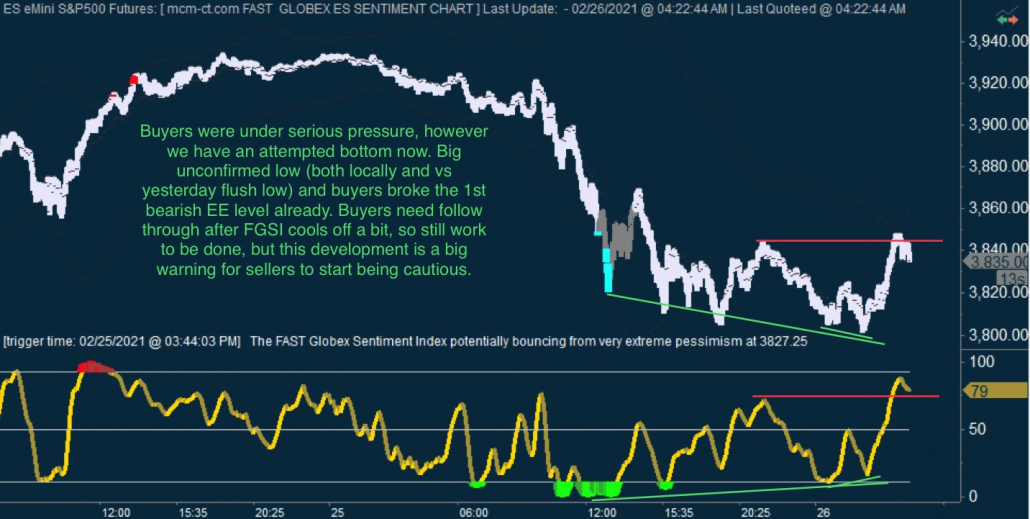 https://mcm-ct.com/wp-content/uploads/2015/05/mcmLogoFinalBlueHorizontal.png
0
0
mcm-Alex
https://mcm-ct.com/wp-content/uploads/2015/05/mcmLogoFinalBlueHorizontal.png
mcm-Alex
2021-02-26 04:31:16
2021-03-01 05:19:29
mcm daily market update 26.Feb.21