ST Trend: down (with bounce attempt ongoing)
Friday saw large whipsaws in both directions. After a decently large gap down (30+ points), buyers stepped in and managed to fill the gap. Then the opening low was tested and finally broken, after which the last 2h of the session saw the "usual" late Friday ramp to take out the highs.
The o/n today saw a big "rug pull", as buyers are seeing a 60+ point drop from Friday's highs. That area was tested several times, but macro-ML capped price and finally once buyers lost ML, we had a large flush to take out Friday's lows. Buyers are attempting to reduce the large gap and with FGSI and IGSI at extreme pessimism that was to be expected. So bounce is ongoin ghere, however as long as ML is overhead, sellers have the upper hand. The o/n low is confirmed on IGSI and locally on FGSI, while FGSI is slightly unconfirmed vs the low from yesterday's late futures session. So even if a bounce is likely here, sellers are still preferred, until buyers can prove themselves by gaining efficiency on FGSI and winning back ML.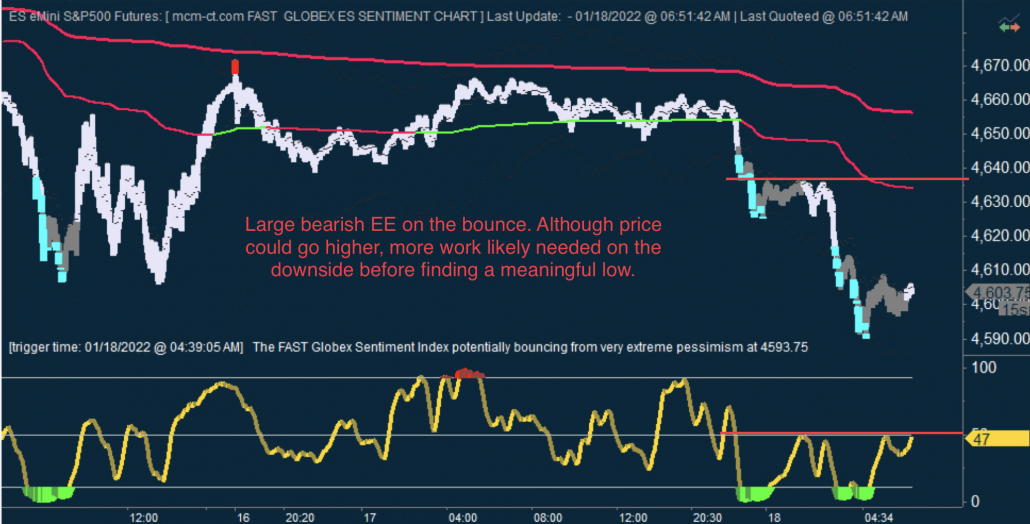 https://mcm-ct.com/wp-content/uploads/2015/05/mcmLogoFinalBlueHorizontal.png
0
0
mcm-Alex
https://mcm-ct.com/wp-content/uploads/2015/05/mcmLogoFinalBlueHorizontal.png
mcm-Alex
2022-01-18 06:55:09
2022-01-18 06:55:11
mcm daily market update 18.Jan.22