Main trend: down
ST trend: down
Yesterday we noted that both the main and ST trend were down as all MLs are above price and red, while ML continues to reject any back-test. Bulls made 2 attempts to win ML yesterday. One in the o/n and one during RTH. Both were rejected and price then proceeded to make lower lows. There was a chance at a complete ED yesterday in the afternoon, but the last 15m strong selling made a new LOD and with that killed the bull' hopes.
The o/n saw continued weakness, the market shedding another ~30 points from yesterday's close at the lows. Bulls managed to base off 3920 and staged a bounce, but couldn't even make it to ML. As we said yesterday, as long as ML continues to cap price action, the trend is down and bears have the edge. Any potential bottoming attempt (off unconfirmed lows on GSIs) needs to be confirmed by a breakout above ML. Otherwise price can continue to make lower lows.
From an EWT perspective, bulls had a good shot yesterday at a complete structure, but failed with the late day sell-off. The expected gap down would put bulls under pressure again, unless they manage to quickly fill the gap. There is the potential at a larger ED, which would allow for an overshoot, but it needs to be contained and quickly recovered to work. Otherwise the structure of the last wave would indicate a bear nest, so it would need at least a few unwinds of 4-5 waves to finish, so still a few new lower lows.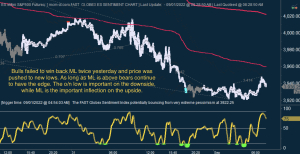 https://mcm-ct.com/wp-content/uploads/2015/05/mcmLogoFinalBlueHorizontal.png
0
0
mcm-Alex
https://mcm-ct.com/wp-content/uploads/2015/05/mcmLogoFinalBlueHorizontal.png
mcm-Alex
2022-09-01 08:36:38
2022-09-01 08:36:41
mcm daily market update 1.Sep.22