ST trend: up
On Friday we were mentioning that the ST trend was neutral as despite earnings misses from 2 heavyweights (AMZN and AAPL), the decline was contained. Price just came to test ML and sellers were unable to push too much below it. FGSI was showing both bullish and bearish EE in a sign that the ST trend was up for grabs. We did note that a breakout/down of that EE would signal that one side is taking control and that side was the buyers. As soon as 4575 broke, buyers pushed strongly and finished at the highs (new ATHs).
Sunday saw a continuation of the up move, with new highs being reached. We had an unconfirmed high on FGSI and pullback from there. That pullback was bought today and we are currently at new highs and ATHs again. FGSI is showing the "up squeeze" set up, as it's declining fast off extreme optimism, while the danny line is holding as support and price keeps making higher highs.
So the ST trend remains up, despite the ST overbought condition. The 1st signs that it will let up will be a failure of danny to hold price. Next support below that is 400bar MA and below that ML. We do have FOMC starting its 2 days meeting tomorrow and announcing its decision on Wednesday, so that will definitely be an inflection point timing wise.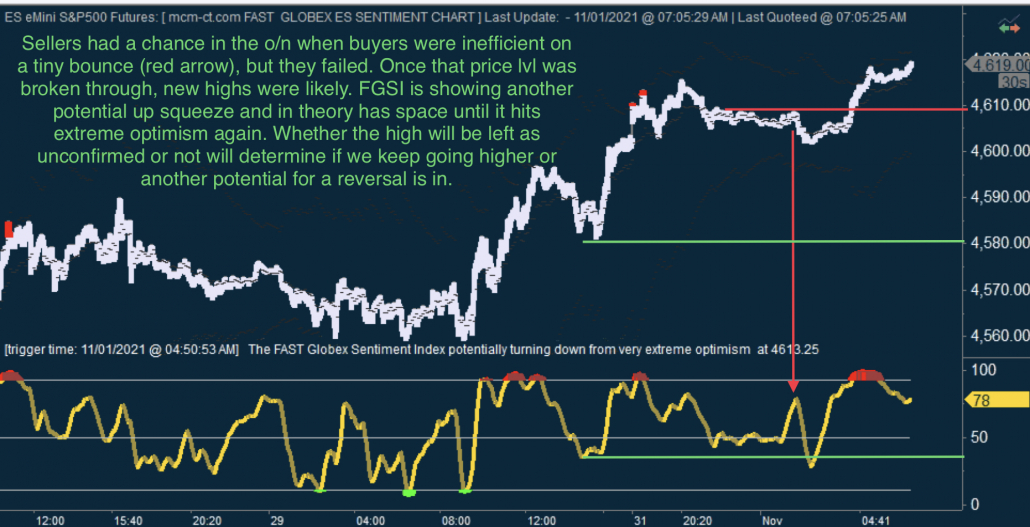 https://mcm-ct.com/wp-content/uploads/2015/05/mcmLogoFinalBlueHorizontal.png
0
0
mcm-Alex
https://mcm-ct.com/wp-content/uploads/2015/05/mcmLogoFinalBlueHorizontal.png
mcm-Alex
2021-11-01 07:14:58
2021-11-01 07:15:01
mcm daily market update 1.Nov.21