ST Trend: neutral (potential reversal of uptrend underway)
On Friday we were noting that the ST trend was down, as price had reversed lower off an unconfirmed high on both FGSI and IGSI and broke below ML. We did mention that FGSI hit extreme pessimism and bounced into a ML back-test that rejected price. Buyers then defended the initial low and managed to win back ML and stage an impressive rally in the 1st part of the RTH session. The usual OPEX whipsaws then started to kick in and we dropped very quickly into a retest of the o/n lows, before buyers stepped in to defend that level.
Sunday and today's morning session saw a continued up grind putting some decent distance to Friday's afternoon low. However price stopped again near Friday's RTH high and reversed strongly. FGSI hit extreme optimism there too. Now price is testing ML in earnest and also broke the 1st bullish EE lvl on FGSI. These are worrying developments for buyers because if ML is lost, the edge will go to the sellers. They need to step in quickly to avoid a potential break of Friday's lows.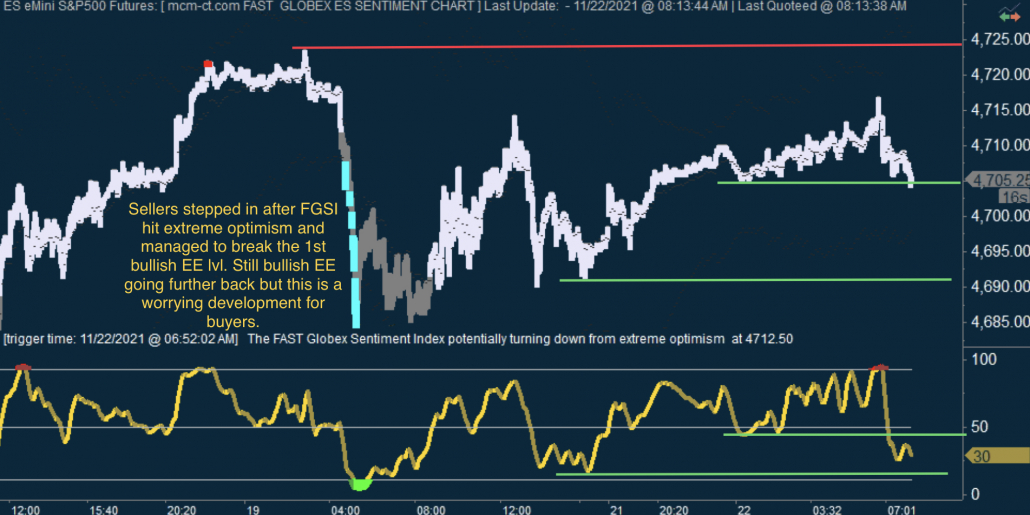 https://mcm-ct.com/wp-content/uploads/2015/05/mcmLogoFinalBlueHorizontal.png
0
0
mcm-Alex
https://mcm-ct.com/wp-content/uploads/2015/05/mcmLogoFinalBlueHorizontal.png
mcm-Alex
2021-11-22 08:20:46
2021-11-22 08:20:49
mcm daily market update 22.Nov.21