ST trend: down (with potential bottom attempt shaping up)
Yesterday we were noting that the ST trend was down, with a bounce attempt, as buyers had put in another unconfirmed low pattern and bounced off there, but putting in bearish EE. We mentioned that ML remains a key level and key it was, as it capped price on every bounce attempt and then mkt was sold to new lows. The market acted very weak yesterday and there wasn't even a gap fill attempt and it closed at the lows.
That close proved to be a bear trap at least for half of the o/n session. AMZN came out with decent earnings and given that it was sold brutally yesterday (was over -8% at some point), ES ramped almost 60 points on the news. However, the big problem for buyers is that ML contined to cap price action. We had an initial test right off the AMZN news and ML held. Then after catching their breath for a bit, buyers tried again, but failed at ML once again. After that there was no looking back and we dropped to take out yesterday's lows. Another unconfirmed low attempt, but after the 8:30 NFP numbers also this bounce failed and we just took out the o/n lows. Going fwd, things look pretty bearish. Yesterday's RTH action was clearly bearish. And the o/n retracing the entire ramp off AMZN news is also horrible for buyers. It remains to be seen where the market would find suppor. Danny and 400bar MA are important near term. And if buyers can find their footing then ML will be the real test.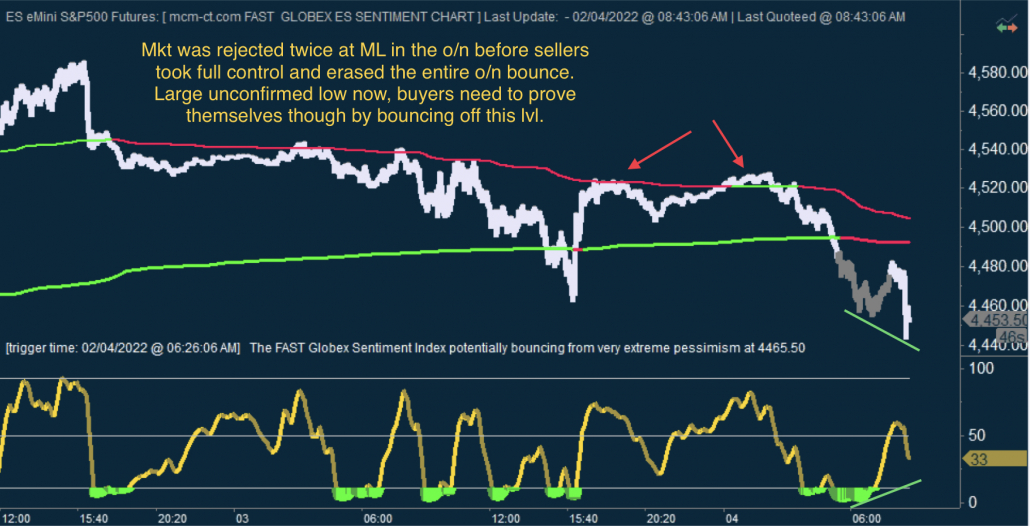 https://mcm-ct.com/wp-content/uploads/2015/05/mcmLogoFinalBlueHorizontal.png
0
0
mcm-Alex
https://mcm-ct.com/wp-content/uploads/2015/05/mcmLogoFinalBlueHorizontal.png
mcm-Alex
2022-02-04 08:47:12
2022-02-04 08:47:14
mcm daily market update 4.Feb.22