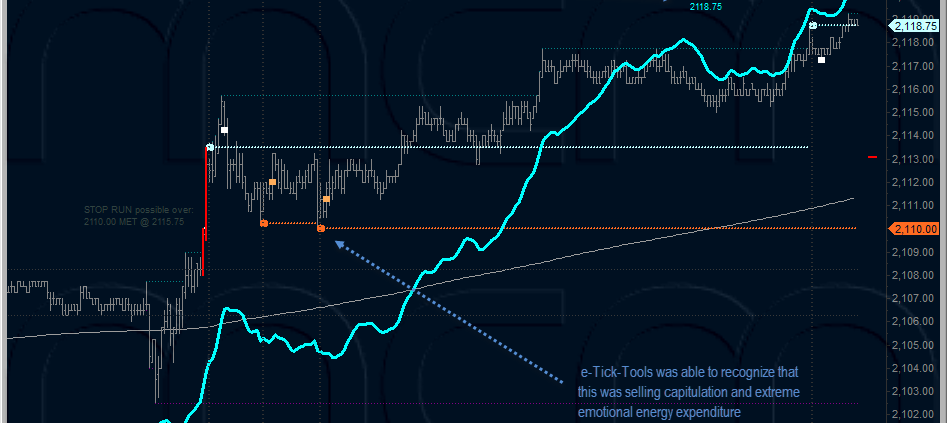 We are in a timing window as posted earlier. These windows have +/- 1 hour usually. e-Tick Tools just generated a Stop-Run Potential Trigger that suggests a lot of shorts are trapped and that we may get a break over the BUY EXTREME that triggered 20 minutes ago and then pullback. Things to keep in mind... timing area for a high poses risk for further upside. Confirmed Buy Extreme suggests some capitulation on the part of buyers. However, the condition for a stop run are in pace and suggest that if we pop higher could be unpleasant for shorts...till better exhaustion occurs. Sell extreme currently in place is at 2119 and a key level at this moment.
Note, the CYAN line on the price chart is the Accumulation Index and it is making new highs as the market is consolidating - could be another indication of pressure could emerge on near-term short risks.
This is a pretty good, in my opinion, example of using Market Facts/eMotion analysis to support technical analysis.
https://mcm-ct.com/wp-content/uploads/2015/05/2015-05-27_13-27-53_TickToolsStopRunPotentialTrigger.png
593
947
mcm-peter
https://mcm-ct.com/wp-content/uploads/2015/05/mcmLogoFinalBlueHorizontal.png
mcm-peter
2015-05-27 13:35:37
2015-05-28 08:13:55
Tick Tools Stop Run Potential Triggered in timing window