The market moved mostly sideways in the past week, seemingly trying to catch its breath after the relentless upward push. It did manage to make marginal new highs in the middle of the week and Thursday saw an head fake to a new ATH which was then sold hard, the market dropping more than 20 points. The week could've ended badly for bulls, but they saved the day on Friday defending Thursday's lows, so it ended rather muted around the same levels as at the start of the week. The near term EWT picture is complicated now. It's possible the most recent ATH was a B wave, with the strong selling that followed to be C of a flat. This option would see new highs rather directly. Or it could be that the impulsive move off that ATH is something more. Regardless of which one will play out, Thursday's range limits are important lines in the sand - both the high and the low.
On the weekly cycles, directionality is moving back up on both indexes, which means bears were unable to change the trend. Nothing much to add except these are looking rather bullish.
The daily cycles are in a make or break situation. Both indexes managed to move slightly above resistances, but not decisively. The resistance levels are important and might still hold, a reversal back below them acting as a warning for bulls that it was just a head-fake breakout. If the market continues to run up and breaks above successful then bears need to sit on the sidelines and wait for another inflection point that might signal a turn.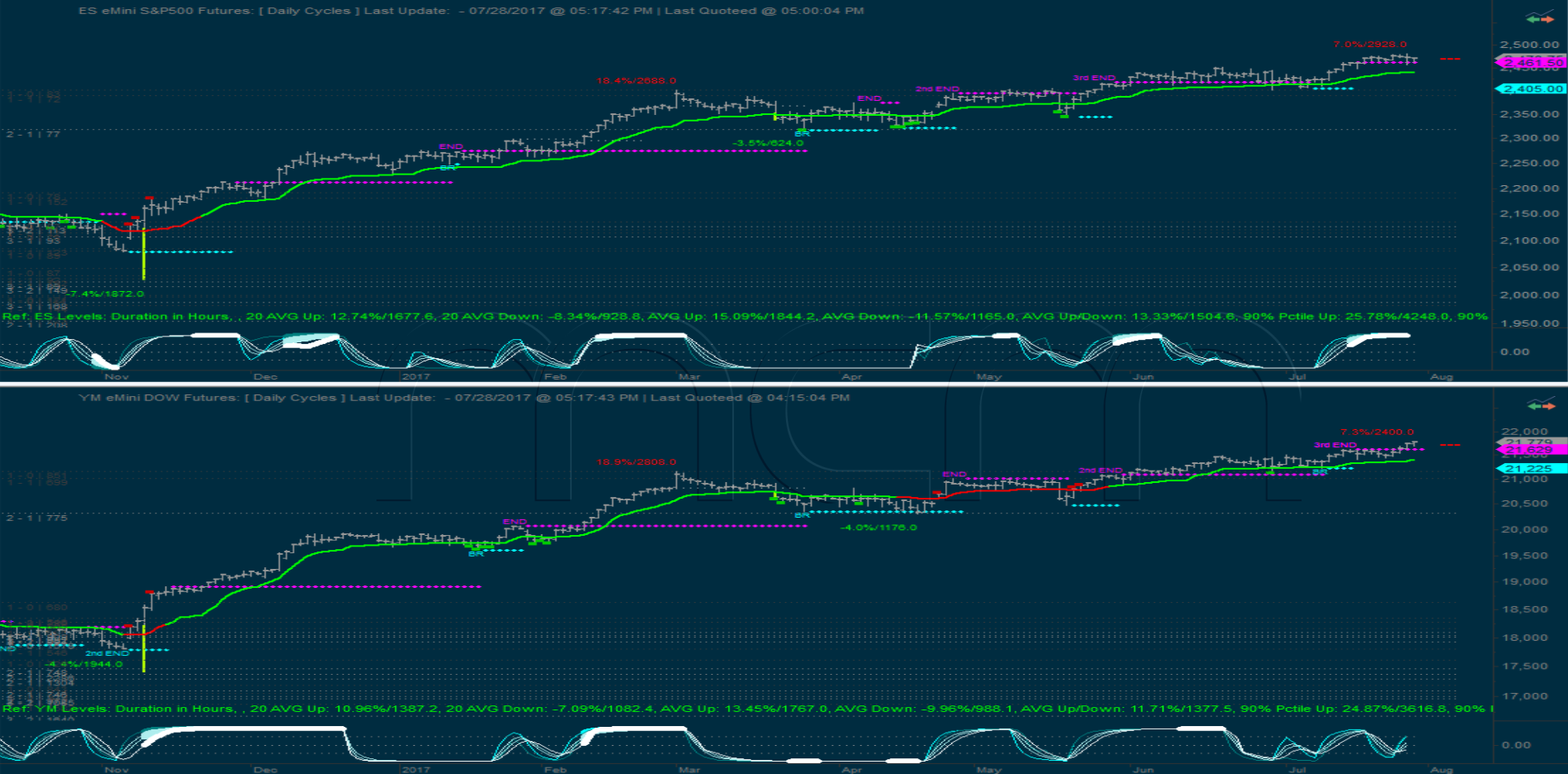 The 288 and 480min cycles     You need to be authorized or upgrade to see this content. Please go to http://mcm-ct.com/membership-signup-dev-2/ to sign up.
https://mcm-ct.com/wp-content/uploads/2017/07/daily_30.07..png
936
1895
mcm-Alex
https://mcm-ct.com/wp-content/uploads/2015/05/mcmLogoFinalBlueHorizontal.png
mcm-Alex
2017-07-30 07:57:39
2017-07-30 07:57:39
MCM Newsletter - Outlook for Week 1st week of August