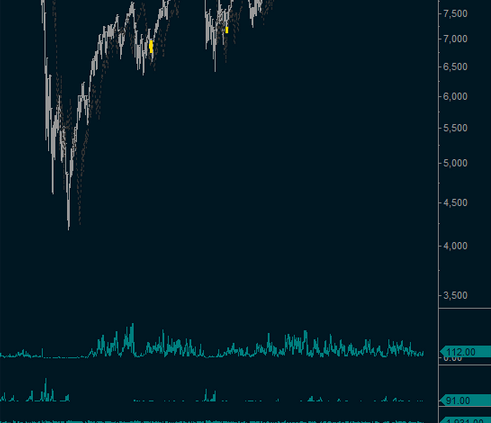 Had a bunch of charts to post this morning, but some internet connectivity problems that slowed things down to a crawl. Will post them later as am on another computer system.
The MCM Hindenburg Omen is NOT a noisy, unreliable entertainment vehicle that can be employed to sell subscriptions. It's funny, whenever the word Hindenburg is in any post - traffic for that post goes way up. However, Hindenburg Omens are wrong 19 out of 20 times and, therefore, actually useful as a buy signal most of the time. Our tool is much more relevant. It has been designed to produce reliable feedback that fulfills the stated but missed intention of a standard Hindenburg Omen. On the charts, you can see the standard ones marked in yellow and the MCM version marked in Red.
Support over the recent X-Tick held and it does look like the drama will extend over the weekend. Possibly into the Fed schedule early next week. So, the up biased daily market structure is still in play. But it is time to make sure seatbelts are close at hand.
https://mcm-ct.com/wp-content/uploads/2015/06/2015-06-12_0610_mcmHindenburgOmen.png
863
491
mcm-peter
https://mcm-ct.com/wp-content/uploads/2015/05/mcmLogoFinalBlueHorizontal.png
mcm-peter
2015-06-12 06:27:43
2015-06-12 11:06:20
MCM Hindenburg Omen Triggered Yesterday